Stickers for Fundraiser
Custom fundraiser stickers team decals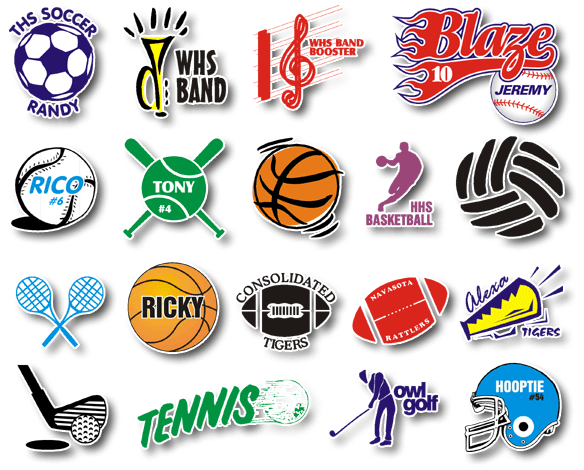 Vinyl decals are the perfect fundraiser!
Your supporters and team members can proudly display your team logo! Unique, personalized logos with players' names and numbers. Show your support with our die-cut and full-color vinyl decals, which can be bought by individuals or resold as a school fundraiser at team events. Vinyl decals are a perfect way to support your team and players. You can order stickers for fundraisers or events of any kind.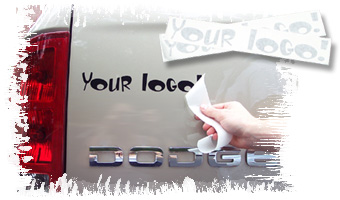 Custom team decals
Yes! We can do any logo you have. Email us an image of your club logo and the approximate quantity you need, along with the size of the logo, (i.e. 5" wide) and we will be happy to price them for you. If you like, we will help in the design -- for free. These are great school fundraisers! For example: A logo that costs you $3 can easily sell for $8, $10, or $12 each. Your members can distribute them, and supporters will gladly buy them to help your organization. Just 100 logos @ $8 will raise $500 PROFIT for your club in just a few days!
Order a few vinyl decals at a time
Many schools, clubs, fraternities, sororities, etc. order in quantities of 100 -- and when they get down around 20 in stock, they reorder. Our value saver program allows you to generate immediate profits and control your quantities AS NEEDED! It also allows for event & logo variations. All the while, your club's reorders are paid for from a portion of the profits from previous sales! Large member clubs can order in larger quantities and get even bigger savings. Allow 5 to 7 days production time + shipping on first order. Around 3 to 5 days plus shipping on reorders. Please email your design with any questions, or call us!
Raise more money, more efficiently
You would have to sell about 5 candy bars to equal the profit from a single team vinyl decals. Why bother trying to sell items that aren't as popular, or don't yield high profits? You will find that our team vinyl decals sell themselves once a few people spot them. Additionally, a special edition or Booster Club decal can be sold for higher prices to community businesses and supporters of the athletic teams to raise even more money. Vinyl decals are popular for school events and gifts.
Get an order together!
To get started, contact us and we will answer any of your questions. To prepare your order, begin taking names from team members or supporters who intend to purchase a decal. Also, if you wish to personalize the decals with names or numbers, be sure to collect that information as well. Once the list is prepared, you can email it in any format, (though text files are preferable). If you have a custom logo for us to use, you may attach it to your email as well. Pricing for the decals depends on the quantity, size, and graphic complexity.