Vehicle graphics
Professional vehicle graphics
Vehicle graphics are the most efficient use of your advertising dollars. Vehicle graphics provide a mobile advertisement which is always working for you. Auto graphics and vehicle graphics help build awareness of your business as you go about your daily routine and are always working for you.
Vehicle graphics can range from full color photographic images printed on pressure sensitive adhesive backed vinyls to die cut auto logos and text of one solid color of vinyl. Full color graphics and auto decals bring your products to life and add dimension to your advertising.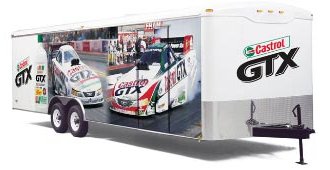 Where else will you find an advertising medium which not only works 24/7, but is always on the move, attracting new customers? Your advertisements will reach more potential customers in a day than a staff of top salesmen.
Our design team will help you create graphics which will catch the eye of your potential customers. These graphics can be a full wrap which covers your entire vehicle, a partial wrap of printed and solid vinyl graphics or perhaps just vehicle decals for your vehicle window.
We provide a support team for your vehicle graphics from design to installation. Each graphic has complete installation instructions included in the package. A complete wrap also has a CD included with installation instructions.
Your graphics or vehicle lettering can be placed on vehicles, trucks, trailers, boats, anything which can reach the public with your message.